Basic Setup

This option must be setup first and will create your appointment types and the length of the appointments.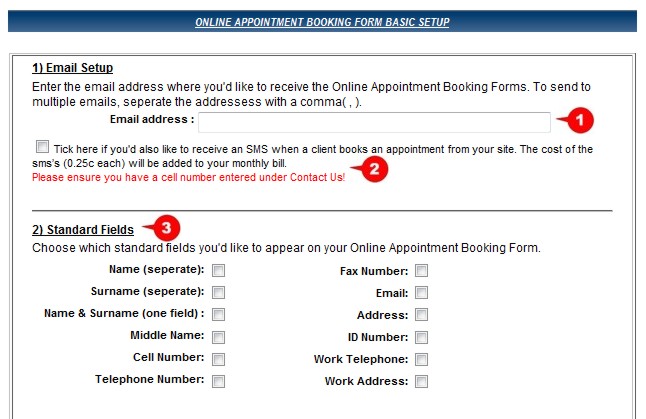 1. This is the email address where all the appointments will be confirmed. To send the appointment to more than one email address, seperate them with a comma.
2. If you would like to receive a sms when a booking is made, tick this box and make sure that the correct cellphone number is entered under the contact us page.
Sms's are charged at 25c each and will be added to your monthly account.
3. Here you can choose which fields you would like the client to complete when making a booking online. Tick the fields that are applicable to your requirements.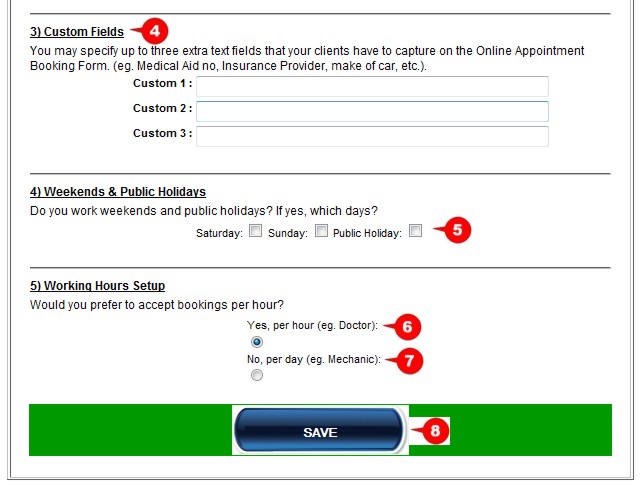 4. Here you can specify up to three additional fields for your client to complete when booking the appointment.
5. If you work on weekends and public holidays, select it here.
6. If you would like to take hourly bookings, select this option.
7. If you would like to take bookings on a daily basis, click this option.
8. Click on the "save" button to complete the basic setup.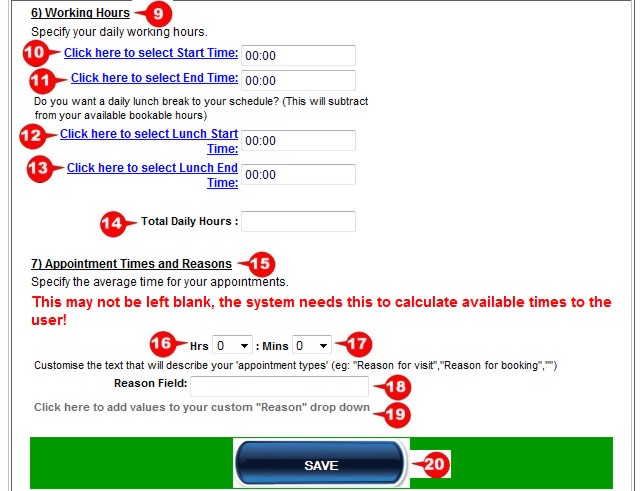 9. If you selected the hourly appointment option, you need to setup your working hours.
10. Click on this option to select your starting time.
11. Click this option to select your end time.
12. If you are closed for lunch, select the start of the lunch hour here.
13. Click here to select the end time of lunch. It will close that timeslot so no appointments can be made.
14. Here it will show the amount of hours you are available for appointments.
15. Here you will setup your appointment times and reasons for you clients to select.
16. Select the hours here.
17. Select the minutes here.
18. Add the main reason for the appointment.
19. Click here to add values to your main reason field.
20. Once you have completed the setup, click on the save button.