Design expertise – building your online presence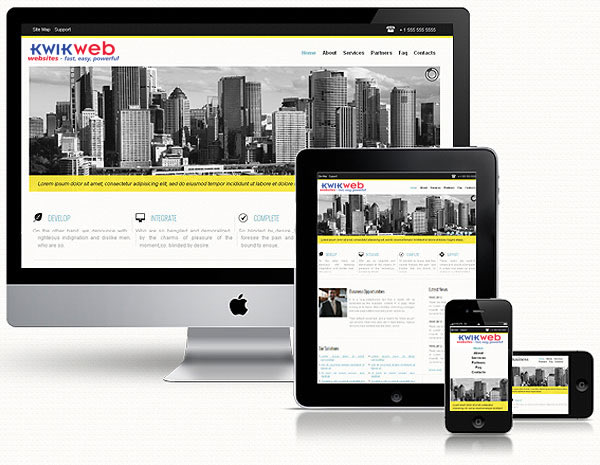 Every business needs to have an attractive and highly functional online presence. While social media is an important marketing channel, it is a well-designed website, delivered within budget, which is the single most important component of your online marketing strategy. It is an extra low-cost salesperson working 24/7, adding directly to the bottom line. It does not take vacations, ask for a bonus or call in sick, and does exactly what you tell it to do. That last part is where many websites fail. They are not professionally designed by experts at extremely affordable rates (like ours are) to not only look great but to achieve the primary objective of a well-designed website – tempt visitors to take some call to action. That could be to phone your number, submit a web form or send an email requesting more information, or place an order on the spot for your products or services. Low cost website design does not mean cheap or shoddy. It means that the expertise and experience of highly skilled web professionals is tightly focused on the creative activities that cannot be automated. All the rest is a superb machine consisting of proven modules that build and interlink to deliver the basis of your high quality website. No corners are cut and only superior premium design skills are deployed. Let's quickly take a look at what might cause website design be not affordable.
Design expertise – building your online presence
First, the webmaster or site builder must be an expert. If you wanted a new bathroom installed, you would not hire a plumber who was still learning his trade, would you? He would take too long, for one thing, and might not be capable of delivering a professional result. Like all professional services, website design involves a certain amount of labour. And labour is one of the most expensive elements in the process. By engaging our website designers, you know that they will get the job done in the shortest possible time because they know their design skills inside out, know the fastest way of assembling a top quality website exactly the way you want it.
Website best practice - the Internet is constantly changing
We are The Professionals. Our job is to keep abreast of evolving technology, to keep your website design both cutting edge and reasonably priced. Cheap sites look dated very quickly and that is the last thing you want for your business. The look and feel of your website reflects your online brand. You want a cool and exclusive image while paying a really sensible fee. This is what affordable website design delivers for your business: economical and practical application of sound creative principles. We don't just build websites. We apply our tried and trusted blueprint that has been conceived and proved over the years. First, we fabricate the underlying technology platform for a rock solid, future-proof base. Then we layer on the critical website design elements of visuals (professional but affordable graphic design) clear navigation (for a great user experience) functionality that matches your online business requirements such as e-commerce, maps, FAQs, forms, calendars . . All this at a fraction of the price you might be asked to pay elsewhere. We can do this because we have a slick website design and construction process for all your online business requirements that is within your means.
Less time taken to build your website means more moderate costs
Inexpensive website design is a direct result of our high level of expertise and experience, combined with the modules and building blocks that we have developed. It is economical for you because we have invested thousands of Rand in creating the underlying website components. Many of these are specifically designed for individual industries and tailored for your online business presence.
Visitors engage with your site's visuals and content – interaction is vital
From many years of tracking visitor behaviour on websites, using analytics and behavioural modelling techniques, we know what elements of efficient website design work well and what should be avoided. Every visitor to your website is a potential customer and there is a real cost of acquisition to get them there. Keeping that cost low and getting cheap traffic is then leveraged by a website that has been professionally designed to maximise the benefits to your business.
Your website is accessible from mobile devices too Intelligent and practical design means your website works on most every device that the general public use when browsing the Internet. All of this accessibility comes free as part of your online package. That represents excellent value for money while keeping costs low. Roughly 70% (and rising) Internet usage is now on mobile devices.
Secrets of cost effective and affordable website design
They are not really secrets but they represent the consistent application of best practice in the web design discipline. They can be found in most every successful enterprise anywhere in the world where good management focuses on containing costs and passing the savings on to clients. We are no exception and we put these key principles into practice in our daily operations. Economy of scale – the cost per website is low because we deliver thousands each year Efficient processes – wastage of time and effort has been eliminated to reduce costs Highly skilled professionals – we employ only the best in each discipline to deliver great results Experience in the discipline – we have been doing this for years and we get better all the time Attractive pricing structure – affordable website design is a reality when you buy from us Fast delivery – all of the above means we accurately predict delivery timescales and do it quickly Customer satisfaction is prioritized above all else – we try to give you the high quality product that we would love to be given ourselves. Affordable website design starts and ends with professionalism. This is the kernel of how we deliver premium quality websites for low cost. You save your hard earned money to invest in other aspects of your marketing strategy while acquiring an economical and efficient website that really works for you to add value to your bottom line.