Add a new product

This is where you manually load your individual products onto your "Products & Services" section.

When referring to "products" in this document, please understand that by definition, it also includes "services" you may load onto this section.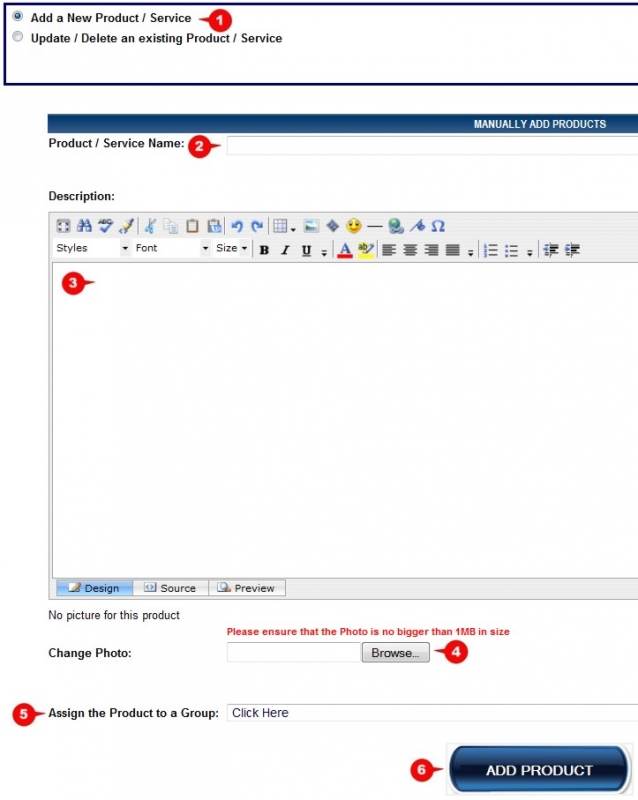 If you are planning to allocate your new product to a "group", you MUST FIRST create the group by clicking on the "Advanced Options" button. For more information, go to the online help for "Manage your Product / Service Groups".

1. Click on the "Add new product/service" radio button.
2. Enter a product name.
3. Type and format the product description text and graphics in the content editor. Include as much detail as your potential customer might need about the specifications, description and usage of your product.
4. Below the content editor, click on the "browse" button next to the "Change Photo" field to upload a picture for this product from your hard drive.
5. If you are using "Groups" to distinguish between different product categories, click on the drop down arrow to select from groups you have already created.
6. Click on the "Add product" button.
IMPORTANT!
The product name acts in the same way as the "page title" of your web pages. They are VERY important to search engines, so include keywords and phrases in your product name.
FURTHER NOTES
Product: The name of the product or service should equal the "search terms" you would like to be found for.
Description: This should be as descriptive as possible. Enter as much relevant text as possible, as this will assist in your website doing well with the search engines. Try and enter at least 200 words here that "relates to the name of the product.
Apart from the main product picture you upload, you can also include supporting or additional pictures and graphics of your product inside the "edit box", using the "insert image" function of the "edit box".
Change Photo: Here you can load a picture of your product/service. This is recommended as it will improve the appearance of your website.