Bulk Upload or Download

If you have a large number of products to list on your website, it would be tedious and time-consuming to capture them individually. The "bulk upload" facility allows you load an existing ".csv" file containing basic product information, to the website.
To see a full explanation of what a "CSV" file is and how to prepare your product list for uploading, please click on the "Browse to upload a CSV file with your product details" text on the screen, or CLICK HERE to read the information now.
This Kwikwap function also allows you to download your product listing to a ".csv" file on your hard drive, or to delete the existing product list from your website.

The "Delete all products" action is IRREVERSIBLE! Please DOWNLOAD your products to your hard drive and save it as a backup before you do this.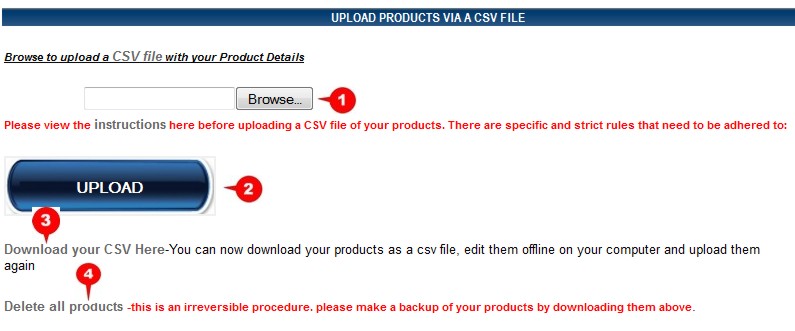 To upload
1. Click on the "Browse" button to upload a .csv file from your hard drive to the "Products & Services" page on your website.
2. Click the "UPLOAD" button. Now click on the "Update/delete existing product/service" radio button to view and edit your newly uploaded product list.
To download
3. Click on the "Download your CSV here" text. Select where on your hard drive you want to save the file. Click on "OK" (Depending on your browser settings, this could change). You can open the downloaded file on your hard drive with your spreadsheet program (like Excel) and make changes if you want, or just keep it as a backup copy.
To delete ALL products
4. Click on the "Delete all products" text. You will be asked to confirm your action. Your WHOLE product list will now be IRREVERSIBLY DELETED from your website.