Add a New Property

This module allows an Estate Agent to add up to 999 rental properties (with six (6) pictures per property) to their website, with a quick and easy uploading facility.

This Module is free of charge
(NOTE: the Text's that will be sent to potential clients will be charged at 0.25c per Text Message)

Once enabled you will be assigned a unique Estate Agent Code. Each property is assigned a unique Property Code based off your Estate Agent Code. This unique Property Code can be Text to 37995 and a Text Message will be sent to the sender with a link to the Rental Listing, matching the unique Property Code, on your website. Standard Text rates, including free Text's, apply.

For example, if your assigned Estate Agent Code is AX and your Property Code is AX21, then clients must Text AX21 to 37995 and they will receive a link to that property on your website. Estate Agents can e.g. put a sticker with the following message on their boards : "Text the code AX21 to 37995 to receive more info".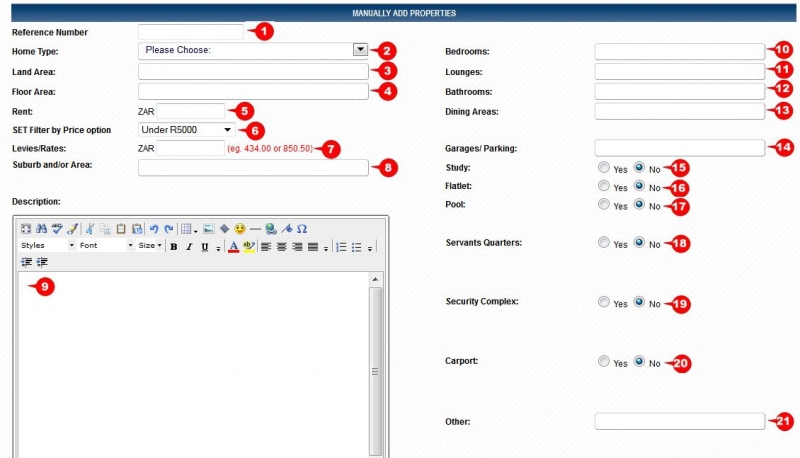 1. Add a unique reference number for the rental property
2. Click on the dropdown menu to select the appropriate home type option.
3. Enter the land area.
4. Enter the floor area.
5. Enter the price.
6. Set the Filter by Price option
7. Enter the levies/rates.
8. Enter the suburb and/or Area.
9. Enter a detailed property description in this form.
10. Enter the amount of bedrooms.
11. Enter whether the property has a lounge.
12. Enter the amount of bathrooms.
13. Enter whether the property has a dining area.
14. Enter the amount of garages.
15. Study: yes or no (if it is no, the field will not be displayed on the listing).
16. Flatlet: yes or no.
17. Pool: yes or no.
18. Servants Quarters: yes or no.
19. Security Complex: yes or no.
20. Carport: yes or no.
21. Other: any other feature not listed.

22. Add the Agent name responsible for the rental property
23. Add the Agent email address
24. Add the Agent phone number
25. Six photos can be added for each listing. Click on the browse button and start adding your photos.
2. Lastly, click on the add property to complete the listing.
Remember to "PUBLISH ALL CHANGES".