Bike Dealer Module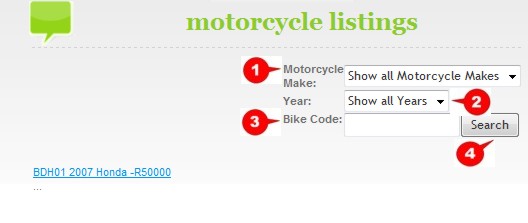 This option allows motorcycle dealers to manage their listings on a daily basis.
The module has a vehicle search facility.
1. Search by motorcycle make.
2. Search by year.
3. Search by bike code.
4. Once the client has selected the search required, they click on the "search" button for the results.
The bike code can be used in advertisements, where the client can SMS the bike code to 37995 and get a reply SMSwith the following wording.
"Here is the bike listing as requested (with the a link to the motorcycle on your website)"