Add a New Property

This is a very easy to use module for estate agents to maintain rentals and sales of properties on a daily basis.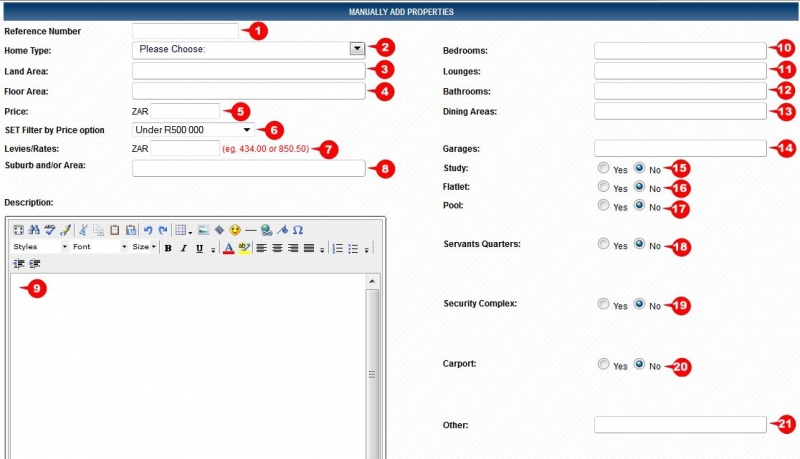 1. Add a unique reference number for the property
2. Click on the dropdown menu to select the appropriate home type option.
3. Enter the land area.
4. Enter the floor area.
5. Enter the price.
6. Set the Filter by Price option
7. Enter the levies/rates.
8. Enter the suburb and/or Area.
9. Enter a detailed property description in this form.
10. Enter the amount of bedrooms.
11. Enter whether the property has a lounge.
12. Enter the amount of bathrooms.
13. Enter whether the property has a dining area.
14. Enter the amount of garages.
15. Study: yes or no (if it is no, the field will not be displayed on the listing).
16. Flatlet: yes or no.
17. Pool: yes or no.
18. Servants Quarters: yes or no.
19. Security Complex: yes or no.
20. Carport: yes or no.
21. Other: any other feature not listed.

22. Add the Agent name responsible for the relevant property
23. Add the Agent email address
24. Add the Agent phone number
25. Six photos can be added for each listing. Click on the browse button and start adding your photos.
2. Lastly, click on the add property to complete the listing.
Remember to "PUBLISH ALL CHANGES".